Welcome To Meadowgreen Appalachian Music Park, Inc.
Meadowgreen Appalachian Music Park Club, Inc. is a club dedicated to the preservation of bluegrass music.  We work together to provide a venue for bluegrass musicians to perform on Saturdays from October through April each year.   We have started to have indoor shows again and hope that you will come in and support our bands.  Our kitchen is open each Saturday with great food and desserts and we look forward to a year of great music.   Please take a look at our line up and come out every weekend that you can to support our bands.  They are why we do what we do (plus the selfish part of us getting to listen to some great music!)
We still have a lot of good music but unfortunately Dailey and Vincent are not appearing.
Due to unfortunate circumstances, Dailey and Vincent had to return home to be with family as their drummer, Bob Mummert, passed away unexpectedly today in the Nashville area.  Please keep Bob's family and Daily and Vincent band in your thoughts and prayers.  We will have a great lineup of talent with Darren Wasson Band, Rickey Wasson and the New South Reunion Band, The Cox Family, and The Goodwin Brothers.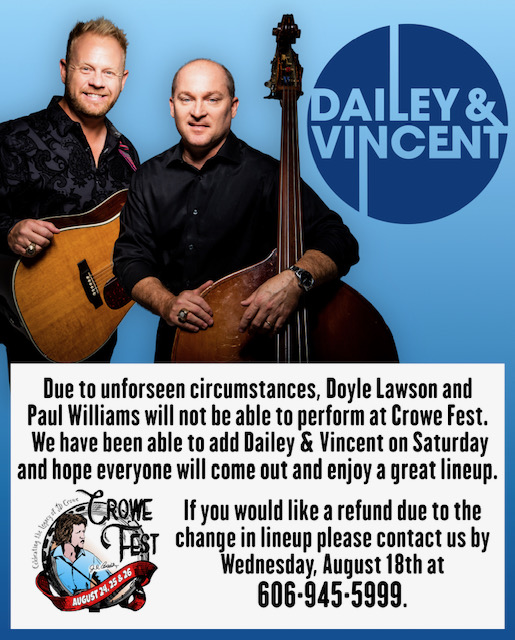 CROWEFEST TICKETS ARE NOW ON SALE
3 Day Pass:  Only $125.00 
Thursday: $30.00
Friday: $50.00
Saturday: $50.00
This is an outdoor festival and we have plenty of tickets.  Tickets can be purchased at the gate.
Camping is currently Sold Out.  We do have primitive camping available but we highly recommend Callie's Campground or 4 Guys RV if you would like to bring your RV and come to the festival daily.